An excellent floor plan is the perfect launching pad for any barndominium-building project. It helps you visualize the possible features of your barndo. With the help of a great floor plan, you can determine if a room or space is where you need it to be and if it will be suitable for its intended use. It helps you identify possible challenges so you can implement design changes before starting construction.
This article focuses on some of the best 3-bedroom barndominium floor plans if you are planning to build one. We will highlight some of their best features and what makes each floor plan unique to help you decide if you can use one of our featured floor plans for your 3-bedroom barndominium or need to modify it to suit your needs.
How Much Does a 3-Bedroom Barndominium Usually Cost?
A barndominium costs $45 and $173 per square foot. However, these are estimates for a basic barndominium and can be higher. If you want a barndominium with all the bells and whistles, you must fork out more money to build it. Costs can also depend on your location. If you live in an area with high labor rates, expect to pay more in labor expenses. In some locations, building materials and supplies are higher, which can increase the cost of your barndominium.
5 Factors That Affect a 3-Bedroom Barndominium's Cost
Let's talk about some of the factors that can affect the cost of building a barndominium. Knowing about these factors can help you identify areas where you can make adjustments to stay within budget while building your 3-bedroom barndominium.
Size
The size of your barndominium is a significant factor in determining its cost because the larger your barndo is, the more materials it will need. A large barndominium will also take longer to build, and labor expenses will be higher. We mentioned size because even though we are talking about 3-bedroom barndominiums, the number of bedrooms doesn't limit the size of your barndo. You can have a 3-bedroom barndominium larger than a five-bedroom barndominium if you go for spacious bedrooms.
Land
The land you are building on can make it more expensive to build a barndominium. If you own land, that's one expense you don't have to worry about. However, if you don't own land, you need to buy a piece, and the cost of acquiring land can differ depending on your location. There is also the possibility of having to buy land, even if you own one if your current location prohibits the building of barndominiums and other metal buildings. Another instance when you might need to buy land is if your lot is too small for your planned structure.
The condition of your lot can also make it more expensive to build your barndominium. If you have a bare lot, you need to clear it of obstructions. Ensure the lot is free of weeds, rocks, and other debris before you start building. You can do this yourself or hire a professional to help you. If your land is uneven, there is a possibility that you might need to hire a contractor to make it suitable for building.
Barndominium frame
The type of barndominium framing you will use affects the overall cost of your barndo. Although most barndominiums have steel or metal frames, some barndominiums use wooden or timber frames. Steel barndominium frames or shells are often more expensive because steel is more expensive than wood. However, you can offset the extra cost with savings in labor since pre-fabricated barndominium shells cut down construction time.
Contractor
Your choice of contractor can affect your overall cost. Veteran contractors are preferable because they have the most experience in the field. However, veteran contractors also often charge more compared to less experienced contractors. Before signing up the first contractor you talk to, try shopping around. Check out several contractors, their previous projects, and their credentials. You can then ask for quotes to help you compare rates. This will give you the best chance of going with a contractor offering competitive rates with impeccable credentials.
Finishing
The finishing touches of a barndominium can take up a large chunk of your barndominium's cost. List all the features you want in your barndominium and present them to your contractor. If the cost estimate your contractor gives you is beyond your projected budget, list down the essential features to prioritize them. You can ask your contractor to leave provisions for extra features that you can add later. For example, if you would love an outdoor kitchen but it is too much for your budget, ask your contractor to leave provisions for plumbing and electrical systems so you can build the outdoor kitchen when you can afford it.
Another way of cutting down costs is by asking your contractor to present you with several finishing options you can choose from. For example, if you are aiming for granite kitchen countertops, but they are too expensive, you can go for quartz or laminate countertops instead.
Buying a Stock 3-Bedroom Floor Plan VS. Ordering a Custom Barndo Plan
One of the first decisions you must make is choosing a floor plan. You can buy a stock floor plan or get a custom one made. This decision is entirely up to you, but let's tell you a bit about the difference between the two to help you make an informed decision.
If you are pressed for time and don't have any special features in mind, a stock floor plan should be more than enough. Stock floor plans are readily available, and you can get them immediately. If you want a custom barndominium, a custom floor plan is necessary to ensure your structure turns out precisely how you want it. However, developing a stock floor plan takes longer, and you need to allot time to meet with an architect or draftsman. You also need to set aside time for revisions if there are changes you want to implement.
You also need to consider the size and shape of your lot. Make sure that your lot is large enough to accommodate your floor plan. For example, if you have a lot measuring 5,000 square feet, you can easily build a barndo with a floor area of 1,500 square feet. However, building a barndo using a 1,500 square feet floor plan might be challenging if your lot is just 2,000 square feet. It becomes trickier if your 2,000-square-foot lot is irregularly shaped. Instead of altering a stock floor plan, you might be better off getting a custom floor plan.
Although stock floor plans are mostly more inexpensive, custom barndominium plans can be cheaper depending on the plan size. To give you an idea, our custom barndominium plans cost just $295 plus $0.3 per living square foot. This means a custom floor plan for a 3-bedroom barndominium measuring 1,600 square feet costs just $775.
What are Some Great 3 Bedroom Barndominium Plans?
Let us show you some great 3-bedroom barndominium plans you can use as inspiration to build that barndominium of your dreams.
2,534 sq. Ft. Grand Barndominium w/ Vaulted Ceiling
This is an excellent example of a barndominium done in classic farmhouse style. It has a gable and barn-type roof to compliment the charming farmhouse façade. It also has barn door shutters to accentuate the barndo's rustic charm.
The barndominium looks larger on the inside thanks to its open-concept design. The spacious living room continues to the dining room and kitchen areas. It has an eating bar incorporated into the kitchen island to maximize space. The barndo also has French windows and vaulted ceilings to make the interiors look spacious.
Efficient Ranch Type House including 5 Bays w/ 5-Car Garage
This barndominium floor plan is an excellent choice if you are a car enthusiast. The main centerpiece of this floor plan is its enormous garage that can comfortably house up to five cars. The garage is large enough to house a boat or an RV if you own one. If the garage is too large, you can repurpose it as an additional storage space, a workshop, or a home gym.
The exterior presents a ranch-style house with front and back porches perfect for entertaining guests. The master bedroom has an en suite bathroom, while the two smaller bedrooms share a bathroom. This barndominium floor plan also has a basement that you can convert into a family room, home office, home gym, or extra storage space.
Modern 3BHK Farmhouse with Sleeping Loft w/ 3-Car Garage
This barndominium floor plan has a barn-like façade accentuated with board and batten paneling. It has a covered front porch running the entire length of the barndo that you can use as an outdoor living space.
The focal point of this floor plan is its working office. This is a floor plan ideal for those working at home. The barndominium has an open layout with the living area, kitchen, and dining room flowing smoothly to create one large living space. There is also a small grilling porch beside the kitchen to hold barbeque nights or intimate outdoor dinners.
2,400 sq. Ft. Jumbo Garage in Ranch Home w/ 3-Car Garage
This exquisite 3-bedroom floor plan is an excellent option for a small family. All three bedrooms have built-in closets for keeping personal items safe. The master bedroom has a walk-in closet and an en suite bath, while the two bedrooms share a common bathroom. The master bedroom has an entrance to the trophy room where the occupant can display prized possessions like trophies, awards, or family heirlooms. It can also be converted into a home office if needed.
The living room has an impressive cathedral ceiling, making it look more spacious. The kitchen and dining area are combined to make one large open space past the living room. It has a pie kitchen island that helps provide extra counter space while cooking and acts as an eating area for informal meals.
Elegant Mountain Barndo w/Wraparound Porch
If you are building a barndominium in a mountain suburb, then you should check out this floor plan. It has an eight-foot wraparound porch to give unparalleled views of the surrounding vista. It has a massive great room with a stone-clad fireplace. There is also a media room for movie nights with family.
Spacious 3BHK Country Style House
This floor plan is an excellent choice if you want a barndominium with the façade of a traditional home. The floor plan lets you have a lovely country house design without breaking the bank. It has a decorative gable roof making it ideal for areas that experience a lot of rain and snowfall. The entire barndominium has French windows and doors to let in more natural light and give it an illusion of space. This barndo also has four skylights to make the interior spaces brighter and help conserve energy by minimizing the need for electric lighting during the day.
Finest 2,765 Sq. Ft. 3BHK Country House with Tandem Garage w/ 4-Car Garage
This country-style floor plan's centerpiece is its spacious tandem garage with a total area of 1,685 square feet. The garage can house up to four vehicles and is large enough to convert into a workshop if you are into woodworking or metalwork. You can also convert it into a studio or a home gym if you want. If you love entertaining guests, the floor plan features an open-concept layout that gives you a spacious dining and kitchen area.
Two Huge Balconies in this Country Style House Plan
This floor plan has a huge master suite on the ground floor with an en suite bathroom. On the second floor, you have two bedrooms with a common bathroom. The floor plan has two huge balconies overlooking the living spaces below. This is an ideal floor plan for enjoying your surroundings, thanks to the covered porches surrounding all sides of the structure. There is also a provision for an outdoor shower on the rear porch if you want to beat the stifling summer heat.
Bungalow Carriage Style Barn Home w/ 3-Car Garage
We have a floor plan for building a single-story barndominium in the style of an old-fashioned carriage house. The main bedroom has a walk-in closet and an en suite bath. The two smaller bedrooms have built-in closets and share a common bathroom. The garage that's spacious enough to store three vehicles can be accessed through the mudroom.
Likable 2,456 Sq. Ft. Barndo w/ Office & Oversized 2-Car Garage Doors
Think of this floor plan as the perfect marriage between Americana and barndominium styles. The garage occupies the left side of the floor plan, while the right side is reserved for the living areas. The primary bedroom is located on the ground floor and has a walk-in closet and en suite bathroom. Two of the bedrooms are on the second floor and share a common bathroom. The barndo also has a wraparound covered porch that increases the available living space and can be ideal for hosting social gatherings like dinners or parties.
Enchanting Contemporary Barndominum w/ 2-Car Garage
If you are looking for a plan for both pole barn homes and stick-built ones, this is the floor plan for you. This is a contemporary floor plan with a gabled facade. The front of the structure also features a spacious porch for entertaining guests. The front porch has two tall wooden columns adorned with stone crafts, and the high ceiling makes the porch look more spacious. Charlie used this floor plan to build his famous barndominium; you can read his story in our feature article.
2,695 sq. Ft. Stylish & Rustic Farmhouse w/ 2-Car Garage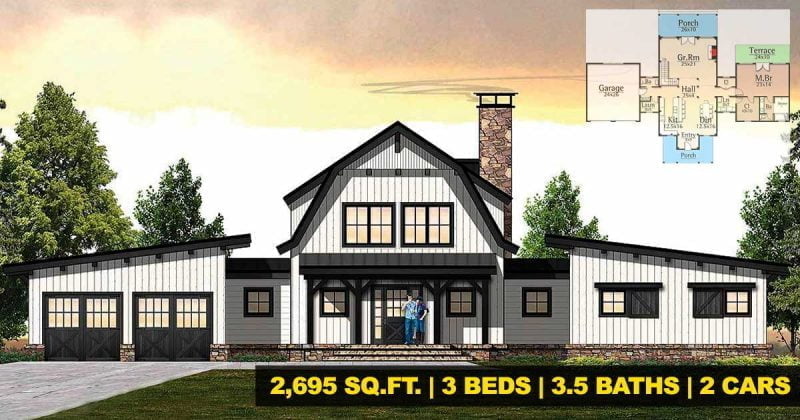 If you want to enjoy the country life, you need to check out this floor plan for a contemporary farmhouse. One wing of the house is dedicated to a massive master bedroom with a large walk-in closet. The master bedroom also has its own bathroom and a private terrace. The two bedrooms on the second floor of the barndo have their own bathrooms and built-in closets.
Delighting 3BHK Farmhouse Plan w/ 2-Car Garage
This floor plan is for a country house barndominium with the master bedroom on the ground floor and two bedrooms on the second floor. It has an entry porch for receiving guests, while the rear of the house features a terrace. Aside from the smaller bedrooms, the second floor also has provisions for two small rooms that you can turn into a home office and a crafts or study room.
Pleasing Mountain Rustic Ranch Barn w/ 2-Car Garage
This floor plan for a rustic ranch barndominium features three bedrooms, all with private bathrooms. The vaulted foyer takes you to an open floor plan layout that features the great room, dining room, and kitchen. There is also a family room that you can convert into a media or crafts room to spend quality time with your loved ones.
Conclusion
An excellent floor plan is the best tool to help you build that barndominium you've been dreaming of, and the fantastic floor plans featured in this article can help you start on the right foot. Check our other collections of amazing floor barndominium floor plans if you want a barndo with fewer or more bedrooms.
Remember to follow our Facebook page for more articles about barndominium financing, barndo insurance, building tips, etc.